Our Modest Beginnings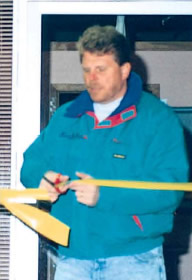 Our blind cleaning business all started out of a 10′ x 16′ insulated shed in our backyard in Western New York. After just a month of realizing a shed that size would never accommodate our already growing need, we came to the conclusion that upsizing our blind cleaning service and the facility was a must. Our first decision was to lease a 1,400 square foot storefront in a retail plaza. Although this worked out well initially for our drop-off, as well as our pick-up and delivery service, it still did not satisfy our desire to serve the customer's needs in a more convenient way.
After months of developing new drying techniques for all types of blinds, such as cloth vertical blinds, pleated shades, silhouettes, and others, a light bulb went off in our heads…what is stopping us from cleaning on-site and lowering our overhead? This prompted the evolution of the first self-contained, user-friendly, mobile blind cleaning trailer. Complete with its own electricity, water supply, drying tools, and ultrasonic blind cleaner, we now brought the shop to our customers!
Our innovative drying process and the development of a mobile blind cleaning trailer, allowed us to create the ultimate service for our blind cleaning customers. Like any other process, as years went on, new changes and modifications had been made to our mobile trailers in order to increase the efficiency of cleaning on-site.
The Evolution of DirtyBlinds.com
Dirtyblinds.com, a division of Ultrasonic Cleaners, Inc. was founded in 1987 as a blind retailer, blind installation, and window washing company. After years of selling, and installing blinds along with washing windows, customers continued to inquire, "How do you clean these blinds once they get dirty?" This common question prompted our company to investigate the possibilities of cleaning blinds utilizing ultrasonic technology.
Through persistence and months of research, we developed a reasonably priced, user-friendly ultrasonic blind cleaning machine. Through our research into cleaning blinds utilizing ultrasonic cleaning techniques, we also learned of the many other applications for ultrasonic cleaning, such as light lenses, golf clubs, fire restoration, jewelry, optical lenses, etc. However, with years of experience in blind sales and installation, we decided to focus on the largest untapped part of the ultrasonic industry, ultrasonic blind cleaning. Once committed to this direction, our company was dedicated and determined to forge forward and establish the standards for blind cleaning.
Our company's standards are derived from the "5 basic D's" to succeed in business: dream, desire, dedication, determination, and most importantly, direction. We believe the direction of the blind industry is within a "one-stop shopping" concept, which will include blind cleaning, blind repairs, blind sales, and blind installation all under one roof.