Mobile Blind Cleaning Trailers
Turn-Key Trailer
The picture to the right is our 16' x 7' x 8' ultrasonic blind cleaning "Turn-Key Trailer." Equipped with duel axles, this mobile blind cleaning "Turn-Key Trailer" has all of the conveniences of a work shop…but on wheels.
Our mobile blind cleaning Turn-Key Trailers are designed with our new 3D wrap (a real eye catcher). This mobile trailer is also completely self contained. It has its own water supply as well as it's own electricity. You will never have to ask a customer for water or an electrical hook up.
Heat for the Winter months and Air Conditioning for the Summer months. Our "Turn-Key Trailers" are built with 30+ years experience. This mobile ultrasonic blind cleaning trailer will allow you to Clean, Dry & Repair all size blinds ON-SITE.
When it comes to building your blind cleaning business, trust the company that built the first On-Site cleaning trailer in the industry. Don't be fooled by companies that try to imitate us. We are the ORIGINAL designers of hi-tech on-site trailers.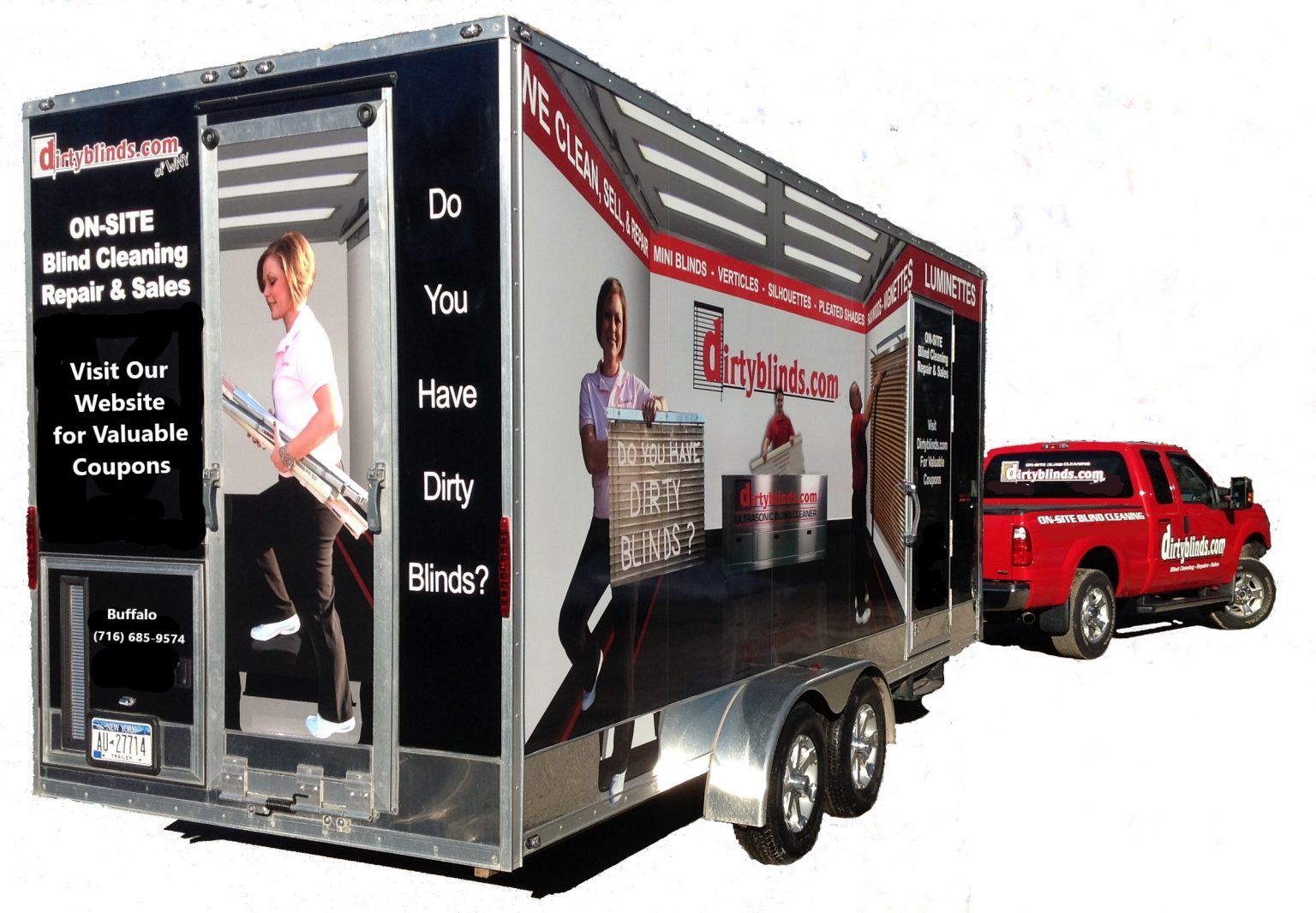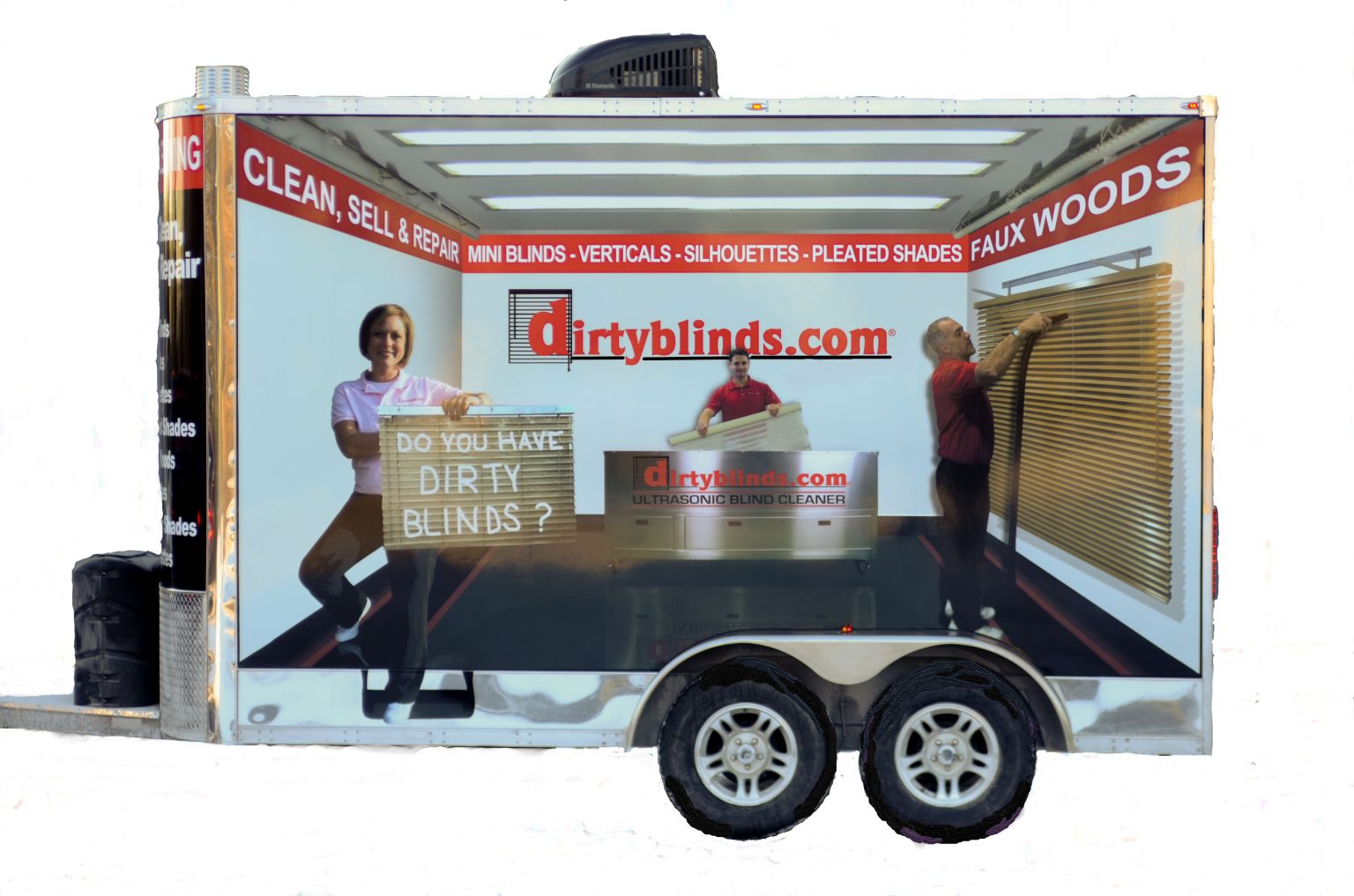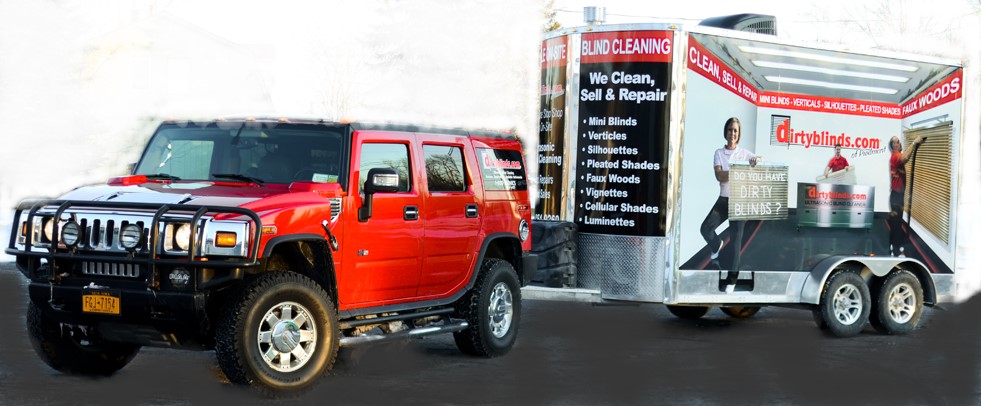 Warm Climate Trailer
This "Warm Climate Trailer" shown above is 12' x 7' x 8' with a wedge front. This trailer is a Duel axle trailer with brakes. This mobile blind cleaning trailer is considered a more economical way to start an on-site cleaning business. Unlike the bigger "Turn-Key Trailer" above, this trailer is much lighter and can be pulled with just about any SUV/Van/Truck.
Warm Climate Trailer Options
(Our Turn-Key trailers pricing includes all the below items and much more).
Our "Warm Climate Trailers" can be built to include the below options.
140 Gallon Stainless Steel Fresh Water Tank
5000-Watt Honda Electric start Generator
30"x 30" Generator Compartment w/ Slide Out Drawer and Slam Lock
DirtyBlinds.com 3D Wrap
20,000 BTU Furnace Heater (30,000 BTU Standard in Turn-key trailer)
Backup Instantaneous Heater
13,500 BTU Air Conditioning
Weight distribution/Sway control
Transport Trailer
This "Transport Trailer" is 10'x 7'x 7' WITH NO wedge front. This ultrasonic blind cleaning transport trailer is designed so you can still clean & repair blinds on-site. You just hook up to any locations water source and the water goes through our on board heating system. This trailer is designed more around either picking up blinds to take back to your shop to be cleaned or by removing the ultrasonic blind cleaner form the trailer and wheeling it inside a building to do your cleaning. If the blinds your going to clean are small enough, you can clean them in the trailer. On a nice sunny day, just wheel the blind cleaner outside the trailer to do your cleaning.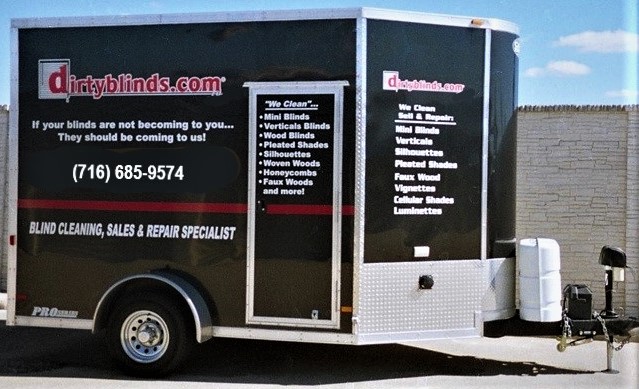 Do It Yourself Trailer Kit - As we always state, "We are all about choices when building your blind cleaning business."
Our company has been building mobile blind cleaning trailers for our clients for many years. We would love to build you any one of our blind cleaning trailers. However, times are tough right now. Our company will instruct you on how to build your own professional blind cleaning trailer while saving thousands of dollars. If you can operate a screw gun, use plyers, and apply pipe glue, then you can build your own trailer. It may take you a little longer to build, but saving money when starting up your business is key. Starting off being mobile in this exciting business puts you ahead of any competition in your area.
You can expect to pay anywhere from $15,000.00 to $20,000.00 for a new custom built trailer, depending on what items you add to your trailer…ie…Size of trailer, Air, Heat, Counters, Electrical, Water Proof Walls, Insulation, Rubber Flooring, Generator etc. All of these items and more are shown on our blue print drawings to discuss with the trailer company you decided to buy from.
T

urnkey Trailer Kit
Professional Blue Prints for 12 ft. or 16 ft. Trailers
Pictures and Step by Step Installation Instructions
140 Gallon Stainless Steel Fresh Water Tank (with Baffles)
2 – Instantaneous Heaters (vents NOT included)
1 – Water Pump
All Hoses, Hose Clamps, Quick Disconnect Fittings, and Valves
8 or 10 ft. Stainless Steel Drip Tray with Liner
Shop-Vac with Drying Attachment (for drying cloth blinds)
2 – Straps for securing Blind Cleaner
Add the cost of our Trailer Kit to your choice of Blind Cleaning Machine, and the trailer you purchase, to come up with your cost to build your own trailer.
Keep in mind that our "Trailer Kit" is based on your purchasing a trailer size from our blueprints.
Take advantage of our many years of experience building trailers by using our blueprints, instructional drawings, and retrofitted equipment to make your job a lot easier and more professionally done. Building your own trailer can save you a good amount of money.
35+ Years of Experience
We have just celebrated our 35th year in business (April 1st 1988). That's a LOT of blinds cleaned and repaired. Put your trust in the only company that cleans, manufactures and trains their clients from 35 + years of cleaning and repair experience. We are the only Company that has a toll free 24/7/365 800# for support and the industries ONLY On-Line Training that goes along with our 3 day Hands–On training program.
When it comes to building a complete system to ensure your success in the ultrasonic blind cleaning business, dirtyblinds.com has and will continue to develop the industry standards.
The finest and most reliable blind cleaners, the only company with ON-LINE TRAINING as well as HANDS-ON TRAINING, experience in the blind cleaning and repair industry since 1988. Along with the most well thought out on-site trailers make "Dirtyblinds.com ®" a wise choice.